---
Tales From The Krug
July 13, 2001
Copyright AA Krug
---
Several hours later, just before sunset, we arrived at Laurel yard on the 8 unit P-LINLAU. A brief summer shower occurred as we were pulling into WB 15 track at Laurel Yard. Because Laurel is a 1,000 mile brake inspection point we have to reduce the train brake pipe down to zero before cutting the power off to go to the house. While the air was exhausting a rainbow formed over the yard. One end of it pointed to the caboose track. The silver passenger car was the first car of a ten car business train parked in the "top yard". It is the "Snoqualmie Pass" and was on a special that had come up through Casper, operated over the Cody Branch, then came to Laurel. The baggage car on the left is an MRL car.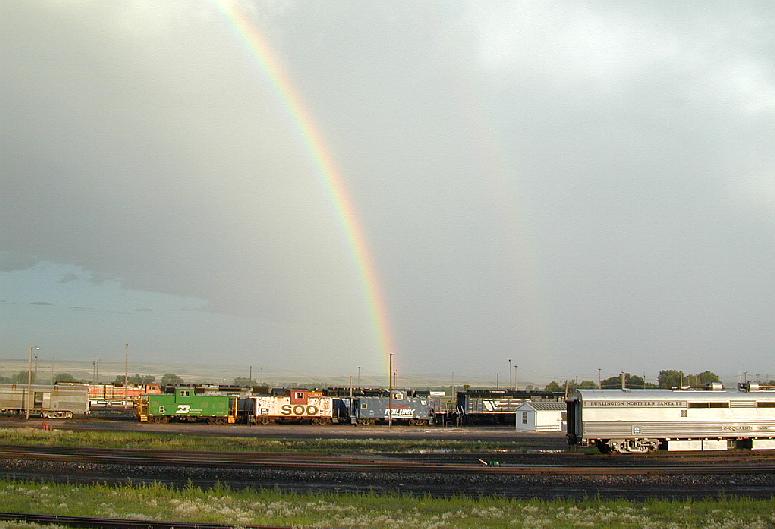 The other end of the rainbow was over the yard. Here we see the BNSF 4953, power for a westbound, backing down the WB yard lead to its train. Another westbound is smoking it up pulling out of the EB yard. The two MRL switch engines with their radio control "cabooses" wait patiently on the sidelines while everybody else is making their moves. The yellow gantry in the background is the rail crane at the BNSF's Laurel rail welding plant.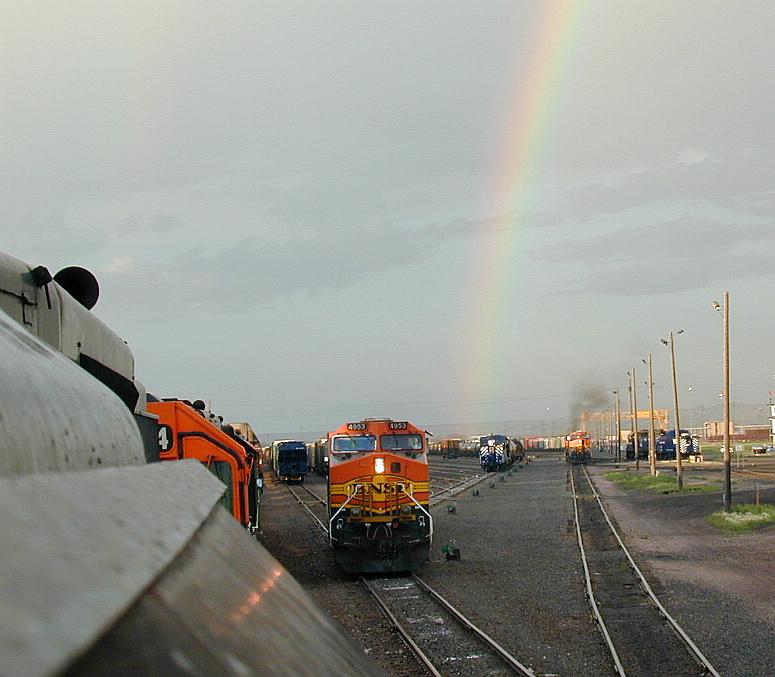 The westbound departing from the EB yard in the above photo had several flat cars loaded with Army tanks. Here is one of them.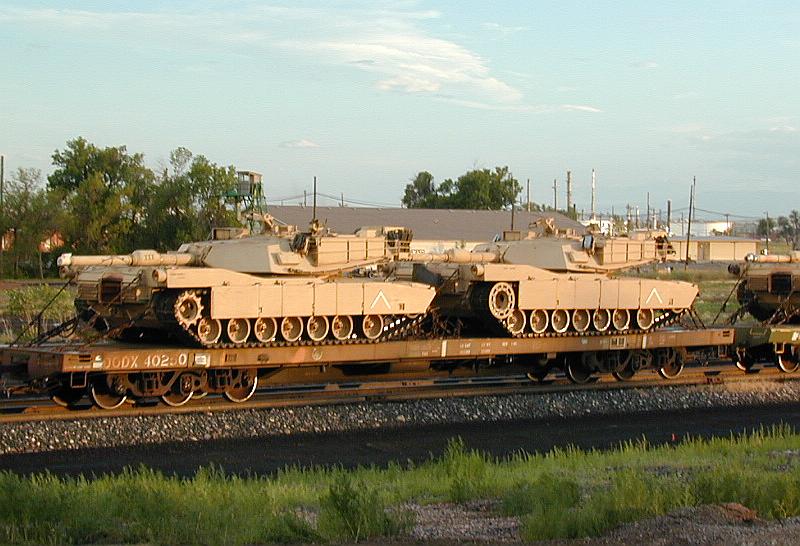 Bare Table?

The B designation on BNSF is for bare table intermodal equipment. Most people think of this as meaning the flats or well cars are devoid of containers and trailers. Not so. Most of our "bare table" trains through here consist of solid trains of empty trailers.

I am always amazed at how "streamlined" these trains are with their close-coupled trailers. They roll much faster with less power than trains of comparable tonnage and length but made up of doublestacks and well cars. Most doublestack trains we get are unevenly loaded or the cars leave wide gaps between containers which catch the wind and produce lots of drag. Common TTX flats with a trailer on every platform have much less drag. Just six or seven vacant platforms can produce enough extra drag it drops top speeds 5 to 10 mph. Vehicle trains such as our V-PTLKCMs with their solid consists of enclosed, close-coupled autoracks exhibit even less drag than these TOFC trains. Since the railroads' constantly battle fuel consumption I'd think they would try to eliminate vacant slots, wide gap well cars, and unevenly loaded doublestacks but they seem to ignore it.

After bringing the 8 unit, Boeing laden P-LINLAU up to Laurel I got called the next day for the B-PTLKCM. Here we are climbing Parkman Hill just east of Aberdeen, MT with a smooth flowing B-PTLKCM bare table train.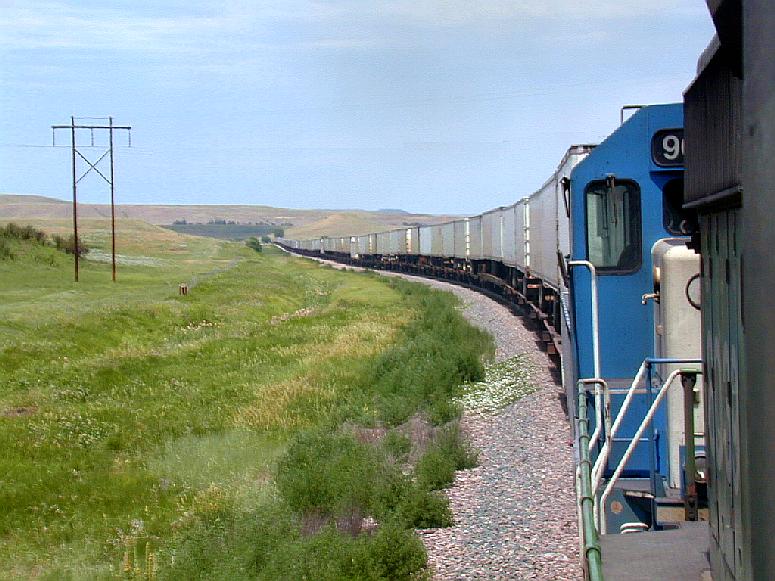 ---
To PAGE 3
---
Created 07-09-2001
Updated 07-16-2001