---
Tales From The Krug
July 22, 2000
Copyright AA Krug
---
Nine Unit Local

This time I start off with the nine units I had on the M-LINLAU1-07 on July 9th, 2000. This train is our "local" and this particular train is the subject of one of my "Tales From the Krug" series.
The train is sitting in front of the Sheridan depot as my conductor walks back to make a cut so we can set out & pickup. Being an engineer I often walk along rows of locomotives. Most people try to count cabs or hoods or entire locos to get the loco count. It is my experience that the easiest way to count units and the only accurate way when they are at an acute angle like this is to count the fuel tanks.
75 loads, 55 empties, 11904 tons, 8493 feet.
The 9 units are two BNSF C44s, two BN SD40-2s, and five OWY (EMD) SD60s.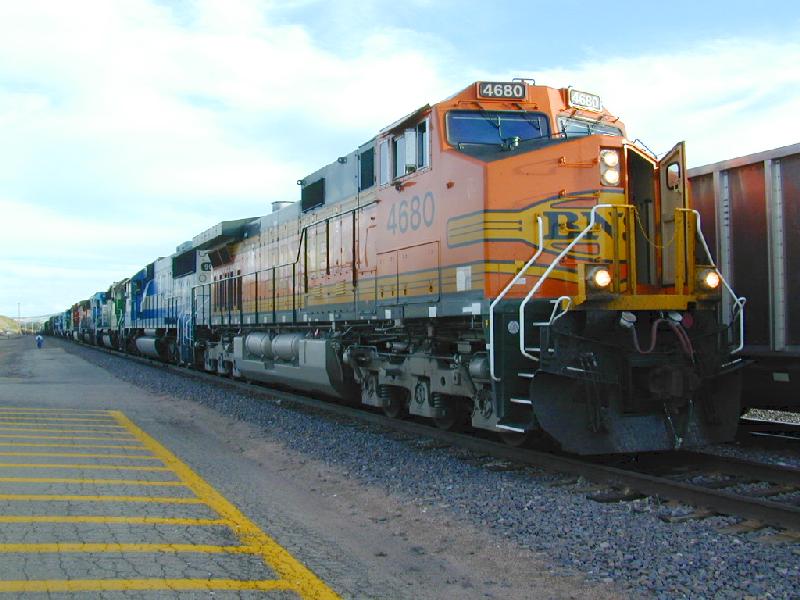 Laurel Roundhouse

Next I have several pictures taken at the Laurel, MT roundhouse/servicing area on 7/10/00.
Standing near the rear of my second unit, C44 BNSF 755, looking towards the turntable.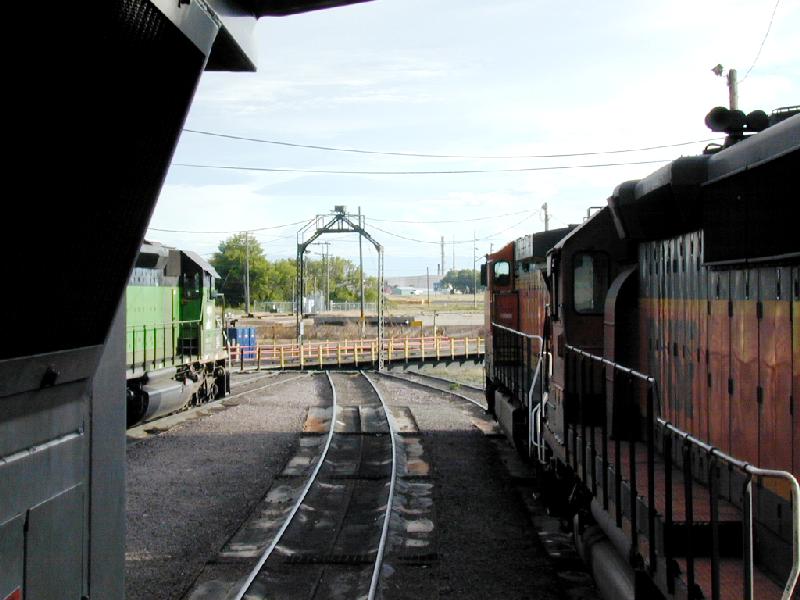 This one is taken standing at the edge of the turntable and looking back towards the power. The previous photo was taken from under the silver "wings" of the unit on the 2nd track from the left. The blue & yellow in the center is an SD45 "B" unit and on the right is a GP60 "B" unit.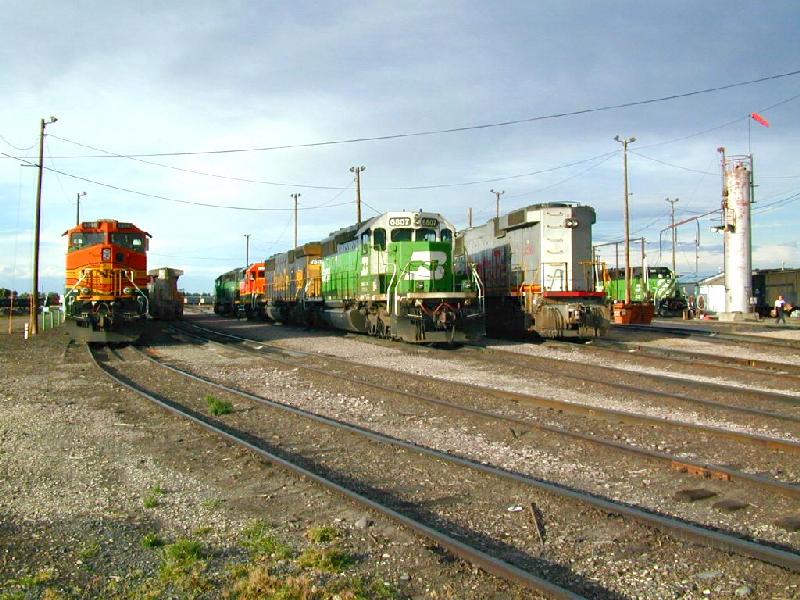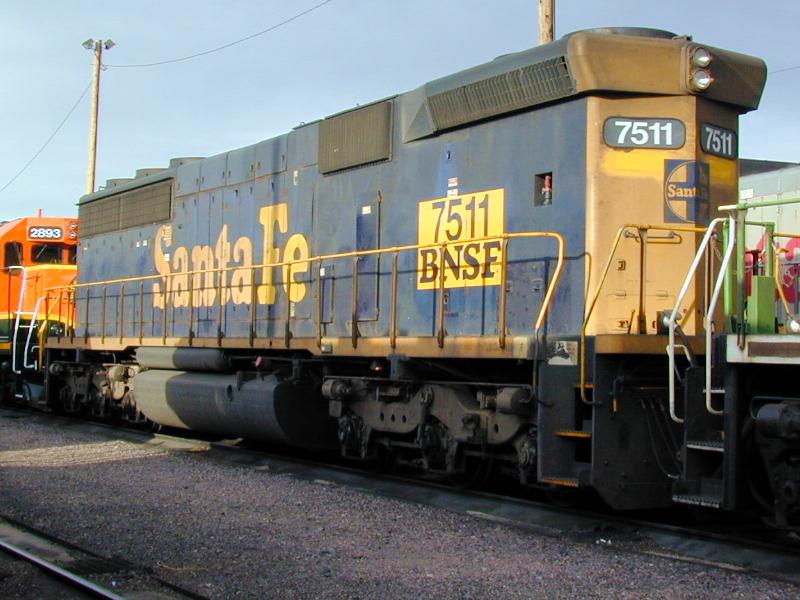 Taken from the rear of my lead unit and looking across a lineup of power at the house on this summer evening.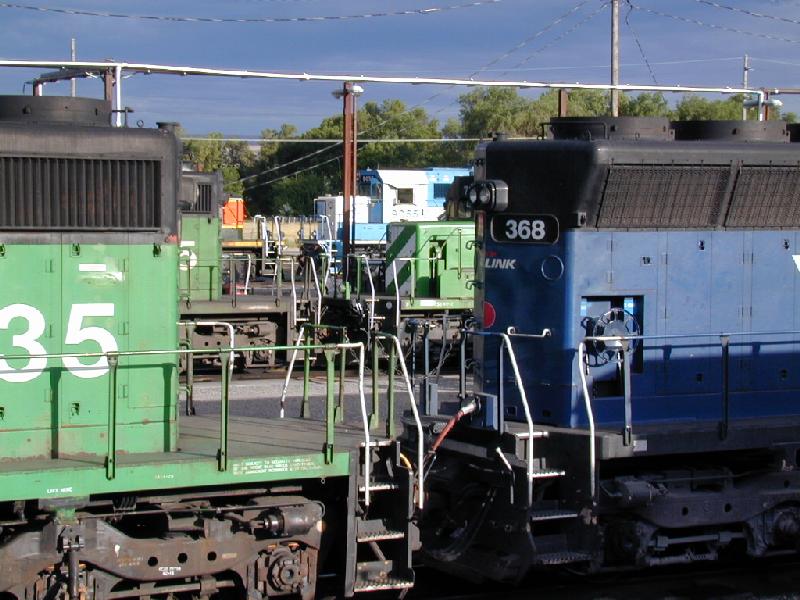 Despite the B units, C44s, and a smattering of OWYs, it was a mostly "SD40-2 day" at Laurel. I took another pic from my cab window as I pulled out of the house. It is not very "pretty" with all the poles and the oil tanks but it made my old heart pitter-patter at the sight. It is looking across the east end of the service tracks and the only thing visible are 8 BN SD40-2s in 3 consists. All were BN green & black with white nose stripes and high headlights. Not a whiteface or lowered headlight among them. That is quite a rarity in this age. Although "only" 8 show in the photo, I could see several more to the right out of the picture at this point. I thought I had stepped through a time warp back into 1980.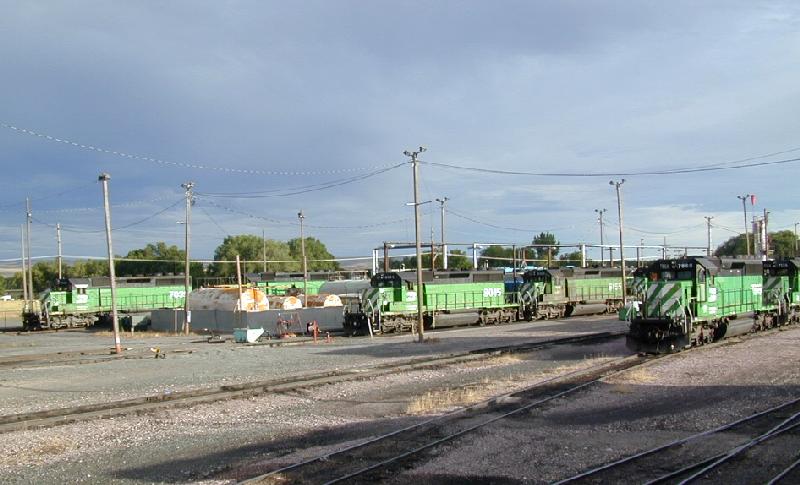 The last picture snapped as I left the house is this BNSF C44. I don't know how many of you get the chance to see what happens when the low sun is directly behind you and illuminates the reflective yellow striping of Heritage II. Those yellow stripes are positively blindingly bright, it makes your eyes squint. The photo doesn't do it justice since the power of the sun can't be captured but it gives you the idea.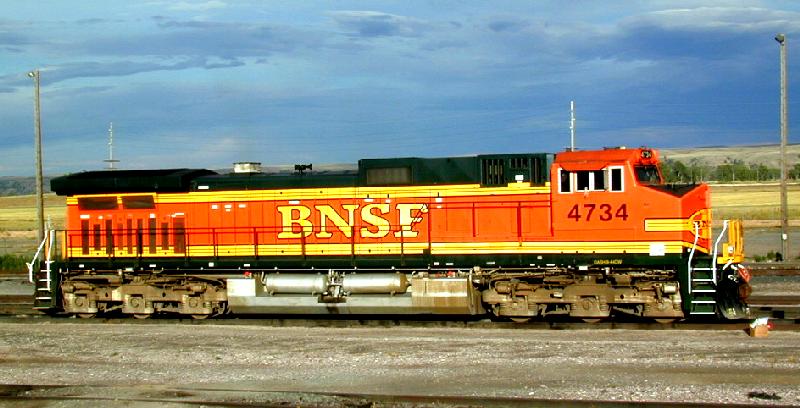 to PAGE 2